It would be no exaggeration to say that the comments I posted after the String Final didn't go down terribly well. In fact, I think they might have gone down like a bucket of cold sick. Shame really, as they reflect a genuine interest in TV production. I'm not a meany. Really, I'm not.
No problem though. Because this week following the Percussion Final – and in no way a sign that I'm trying to tone down my views – I note an improvement. Alison Balsom as a presenter works well backstage. She is the kind of reassuring presence I'd hope to see backstage after I'd had to prove my mettle on stage in front of an audience, a panel of judges, and a collection of TV cameras. Not only that, guitarist Milos' delivery in voice-over maintains the pace of the programme. Also, things got underway after 8 minutes. And, I'm sure I saw more of what the judges thought. So, you know, that's all good. *
I hope I haven't dug myself a bigger hole by saying all of that first, because the big point to make about this category final is that it makes for cracking TV. No disrespect to last week's string players, but the percussion pieces offer guaranteed driving rhythms and something a little more varied visually. This was perhaps down to the size of the instruments each were playing and the scale of their stage environment they had to reach across. All of the performers had the chance to swing around just a little more, and that translates well on screen.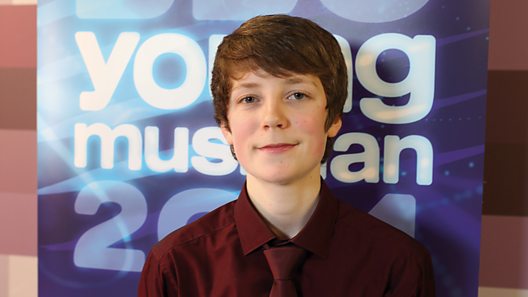 But more than that, the music all the competitors offered was – by virtue of the fact it was largely new to me – fresh. Elliot Gaston-Ross secured his place in the semi-final with a breathtaking performance of the first movement from Dave Maric's brilliant Reich-infused Trilogy (watch out for Elliott's smile at around 4.39 – its almost as though he knows he's allowed to show us he's enjoying himself).
For all the spectacle of Elliot's performance of Maric's music, it is his rendition of Takatsugu Muramatsu's Land which really tugs at the heart-strings. I can't wait to see what he plays in the semi-final and (again, sorry everyone else) I really hope we see him in the final.
Jess Wood's performance of Asventuras should be watched closely and applauded loudly. Not only does she demonstrate a stunning memory of complex rhythmic patterns, but her confidence and poise should do wonders for selling music studies to the next generation of musicians.
As it happens, I backed Elliot from the very beginning – sorry everyone else – but spare a moment to watch Stefan Beckett (who dons a smashing jumper in the publicity photographs) in his own arrangement of Rachmaninov's C# Minor Prelude for Marimba. Utterly gorgeous stuff.
Expect to see all of these musicians go far. Winning is obviously a goal, but the reality is that the talent these category finalists have already demonstrated means their careers are secured and that we will see more of them. Not only that, parents of a certain age can expect their own kids demand they get the chance to learn percussion. Bloody good job.
* I'm sure this had absolutely nothing to do with me. Nobody reads this blog.
The Woodwind Category Final is on BBC Four at 7.30pm, Friday 2 May 2014