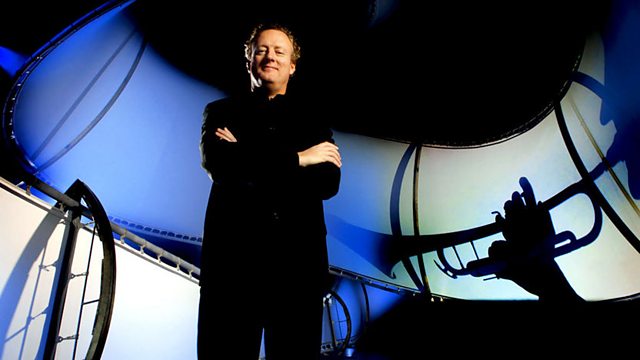 Two important television programmes about music will broadcast on the BBC in the next couple of months which along with a year long festival dedicated to the 20th century music at the Southbank Centre in London are set to make 2013 a special year. Never before have I been quite so excited about the prospect of my love for a genre being reciprocated.
Howard Goodall's three part Story of Music starts this Saturday on BBC Two at the graciously appropriate time of 9.30pm. A few weeks later another three part documentary dedicated to 20th century music The Sound and the Fury kicks off on BBC Four. These two gems in themselves (I've seen the first episode of both series already. They're great.) offer me an insight into how obsessive football fans feel when a documentary about their favourite sporting legend is broadcast which in turn reminds me what its like when a quality documentary about the Eurovision hits our screens. It's as though us musicology-loving musos have been given a long overdue treat. A little special something especially for us … Because we're worth it.
Contrary to popular opinion, not all classical music fans have an encyclopedic knowledge. There's a great deal of information and repertoire I either don't know or don't retain. That's one of the reasons I repeatedly turn to the genre: it yields more than say pop music. In all its traditions, it enrichs the soul and I will never know everything about it. The opportunity for ongoing discovery of the genre never ends.
There's also a good deal I don't understand about 20th century repertoire. There are pockets I 'get' – say avant-garde and chance – but the wider picture is something which has passed me by. Both Goodall's Story of Music, and later in February 2013 The Sound and the Fury, fills the void left behind when I graduated from university.
Goodall offers a new approach to music history in his three part documentary: a comprehensive look at how and why music has developed over hundreds of years in the way it has. Those who haven't spent hours flicking through Grove or desperately trying to understand the point of Schenkerian analysis (I still don't), Goodall's in-depth knowledge shared with his customary lightness of touch may appear like nothing more than another (albeit well-produced) documentary series. Former music students however will see something a bit different: (finally) the wide span of music history in a beautifully executed in our dream-lecture. We'll wonder why their own tutors managed to get the jobs they did.
The Sound and the Fury (I saw the first episode at the South Bank Centre last Saturday) ramps things up a little further. Now, for the first time in … well, possibly ever … as near complete a contextualisation of the 20th century period of serious music output as time will allow. Based on Alex Ross' book The Rest Is Noise, The Sound and the Fury spans 20th music, explaining the often cacophonous sound by reminding us of why composers ended up conjuring up what appear like weird and alienating concoctions.
For example, Webern's stark textures and apparent tuneless-ness seem considerably less alienating when there's someone explaining how the Viennese composer ended up arranging things on his manuscript in the way that he did. Oh, and don't underestimate how reassuring it is to hear the likes of composer-Gods Steve Reich or John Adams actually admit on camera the thing no one ever expects any afficiando to say: "I find Webern difficult to listen to."
20th century music needs Ross' book and The Sound and the Fury documentary. There is a need to contextualise the results of a period of time when composer's broke with tradition and desperately sought to go their own way. Some wrote for themselves, others more-so for the audience, but because it wasn't possible to easily understand why we ended up with so many different often impenetrable styles, so 20th century repertoire – aside from a handful of exceptions – was dismissed by mainstream audiences. Why did those composers have to be so rebellious? Why couldn't they be more like that nice Mozart?
Against this backdrop, Jude Kelly's The Rest is Noise festival at the Southbank Centre makes perfect sense. A year-long survey of 20th century music from 1900 to 1999 brings Ross' text-based history into a 3D aural and visual reality. 93 concerts involving nearly every UK orchestra and a whole host of international bands too will feature music from across the century. Talks, dances, films, debates and exhibitions will expand the experience of the Southbank Centre visitor keen to explore their fascination with this sometimes maligned period of music history. It's digital offering – a breathtaking juxtaposition of ticket selling and audio/video catch-up service – will surely set the bar high for similar efforts when the festival comes to an end.
Of course, not everyone will approach the next twelve months with the same open mind and naive enthusiasm oozing out of this blog post. And that's OK. Perhaps The Rest Is Noise festival will only be attractive to a certain demographic.
Even so, the festival for me is an important moment for classical and serious music in UK. And just as there are people around stumping up their two-penneth on what they orchestras need to do in order to secure a safer future, so The Rest Is Noise has the potential of establishing a blueprint for future major artistic endeavours.
By the end of twelve months I wonder to what extent the festival will reinforce the idea of Southbank as an arts destination to new audiences. Obviously, this had happened already – most know what the Southbank is about – but the sight of people buzzing in the Festival Hall nearly two hours before the main feature when I went last Saturday left me thinking that far from alienating audiences, The Rest Is Noise has re-energised the location. In this respect, the festival and its necessarily wide variety of output is reasserting the cultural aims of the building itself.
Twentieth century repertoire is not only in need of contextualising, but also a spot of positive PR. In a fragmented on-demand musical world the wide variety of styles in the 20th century which previously alienated audiences may well be seen as choice for a whole new audience – entry points in themselves for the genre as a whole. A wider appreciation may follow. Imagine how pleased the publishing houses will be.
Like Ross' original masterpiece, The Rest Is Noise festival successfully taps into the broader appeal of 20th century history providing entry points for those who consider themselves 'novices' or the music 'difficult'. Widening the foundations in a festival like this – using inventive ways to 'present' the repertoire through performance, discussion or other contextualising events – makes the repertoire more understandable. Bringing the genre closer to a shared experience of history, for example goes a long way in making 20th Century music more approachable.
It's also going to help increase audience reach, reinforcing the Southbank Centre as an exciting, vibrant destination for anyone wanting to discover new sounds or new ideas. Could it even go as far as repackaging the concert hall as a desirable entertainment location?
These expectations may seem a little fanciful, but there is a sense of hope which underpins them. 20th century music isn't all difficult and impenetrable. In many cases it is the perception of a composer and his output which is the barrier. Often its the barrier which needs breaking down.
In the long term, such endeavours are great for audiences – and for box offices.But, there's also another striking element to The Rest is Noise: how the entire thing the result of partnerships.
At its very core, is the single most important relationship that between Jude Kelly, Artistic Director of the South Bank and Alex Ross, author of the book which inspired the festival, The Rest Is Noise. Extrapolating Ross' brilliant history into 'a soundtrack of the 20th century' is in itself a beautifully simple yet compelling idea – a kind of real-life year-long box set of music discovery.
But more than that, is the reality that at a time of austerity, laying bare the many components necessary to turn this into a reality – orchestras, broadcasters, venues, speakers and sundry other performers – reminds us of the modular way in which such events are now presented to the audience. This is not one person's idea, rather a reworking of someone else's – something akin to a screenplay of someone's autobiography – made real by many organisations, pooling resources. Similarly, this isn't just a series of concerts in the same venue, branded with the same visual identity, allocated the same marketing budget. Each contributing organisation or individual brings their own expertise to the table. The success of the whole is down to everyone, not one person or organisation.
Such a setup projects a suitably inclusive, non-hierarchical image on proceedings: it gives this festival a different feeling from a great many others. If it can sustain that over the next twelve months, it should be a real treat. And if it does become a blueprint for the future, then who knows, maybe future arts conference will be guaranteed considerably more in-tune speakers than this year's keynote at the ABO's 2013 conference. Here's hoping.
Comments
comments