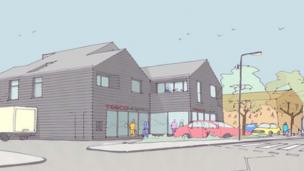 Aldeburgh – the town where Benjamin Britten settled with his chap Peter Pears and wrote some of his greatest works – has another key moment to add to its history: Suffolk Coastal District Council has approved plans by five votes to four to redevelop the site of a former garage into flats and (possibly) a Tesco Express (see above).
Urbanites will look on this news wryly. Those who know Aldeburgh and its precarious eco-system will feel differently. The arrival of something like Tesco to the town is the equivalent of your teenage son inviting his thrash metal-loving friends into your front room for a lager-fuelled all-nighter to explore their mutual love of the genre. Sort of.
If successful, Tesco will be the third 'supermarket' in the town. True, there's already a Co-Op on the high street (it's been there for 20 years). There's also a number of independent businesses who could be impacted by the extra supermarket.
But more than that, there's a sense that the town's soul is at risk if business and therefore focus is distracted away from the High Street. Those who love the place are quite protective of it.
If Tesco does move in, the supermarket will be situated on the Saxmundham Road, opposite Leiston Road and Britten Close.
It so wouldn't have even been contemplated in Britten's day, I'm sure of it.
More posts about Benjamin Britten, Aldeburgh and Snape are available at www.thoroughlygood.me/britten.
Follow @thoroughlygood on Twitter for more updates.
Comments
comments